Omnia from Sonus faber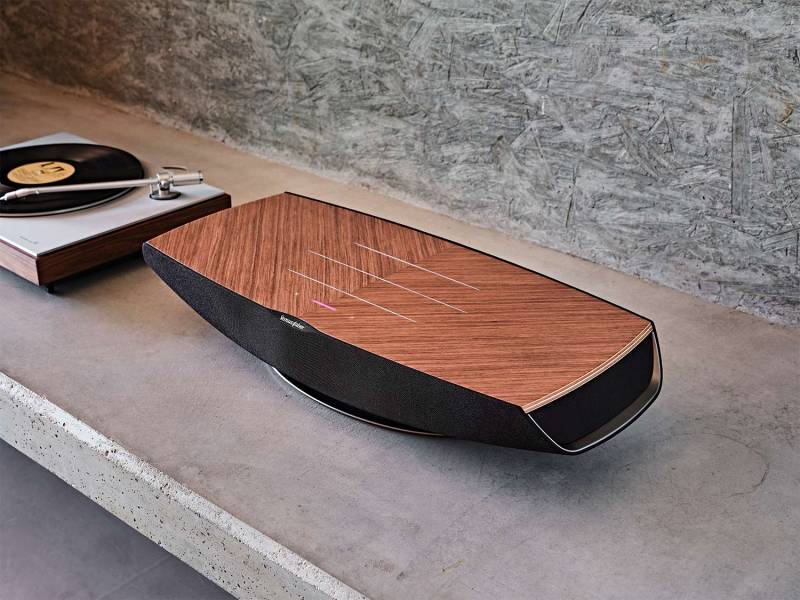 Sonus faber have entered the wireless speaker market with the introduction of Omnia. The perfect marriage between the natural sound that Sonus faber is famous for and modern conveniences like Spotify, Apple Airplay, Bluetooth and more. 
Features include:
SENSO
SENSO is Omnia's tactile illuminated wooden top panel. This touch sensitive interface allows direct control of the system, with an additional remote operation available via the supplied handheld controller and user's smartphone or tablet. The illuminated lines indicate Omnia's mode, which streaming service is in use and which input is selected, also allowing the user to adjust the volume.
Acoustic package
The Omnia acoustic package features a 4-way closed box system with 7 drivers driven by a 490 watt amplifier.
On the front, two .75" silk dome tweeters with Neodymium motor systems and two 3" paper pulp cone midrange drivers guarantee the Sonus faber sound signature and deliver life-like micro-dynamics.
Low frequency is achieved through a 6.5" long-throw aluminum cone woofer in a down-firing configuration, creating an immersive and impactful sound field.
On both sides of the system, two 1.75" wide range inverted dome cellulose pulp membrane drivers with Neodymium motor system, enhance the sound field with a greater sense of dimensionality in conjunction with newly trademarked technology Omnia is bringing to life: CRESCENDOTM.
This new technology combines a mix of in-phase bipole and anti-phase dipole sound schemes to redefine the 3D listening experience. Listeners will discover an endless new world in this 27" package.
CRESCENDO
Omnia delivers stunning performance: 490 Watts of power driving 7 speakers optimized by Sonus faber, featuring
a specially designed new acoustic technology called CRESCENDO. This advanced signal processing system results in a greater sense of dimensionality and immersivity, cleverly utilizing the two full range sides speakers. It creates a crisp wavefront which, through room reflections, mimics that of a live performance. A natural experience just within your room. Omnia can be optimized to perform in any environment, thanks to the Room Placement options and EQ modes selectable on the web-based set up page.
Connections
Omnia's wide connection options guarantee seamless playback from mobile devices thanks to Bluetooth, Apple AirPlay 2 and Chromecast built-in.
Of course, WiFi Certified system ensures interoperability and security to users' connections.