Accuphase E-5000 Integrated Amplifier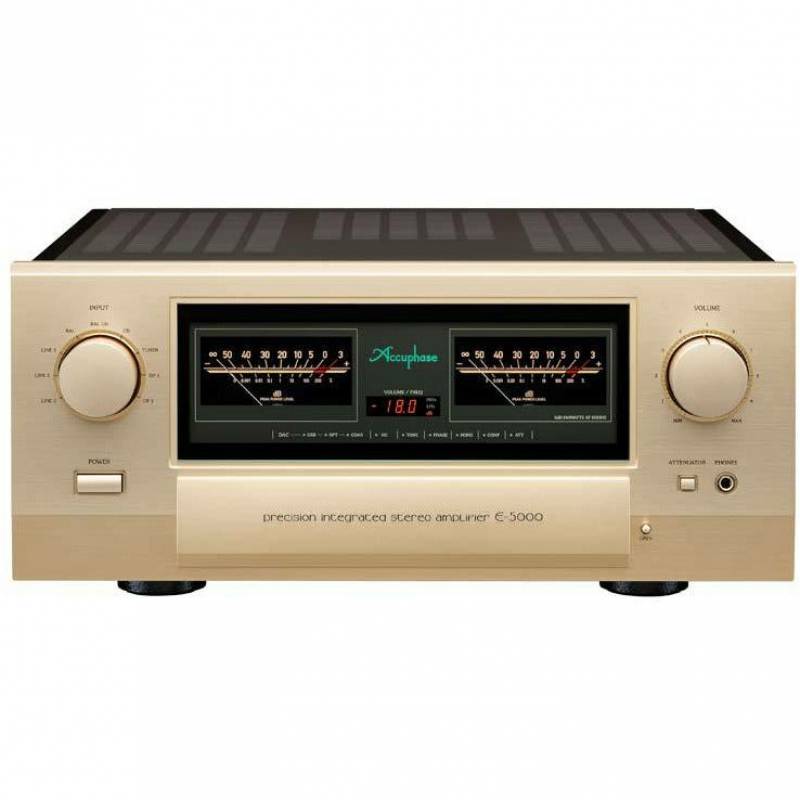 Developed to mark the 50th anniversary of Accuphase, the E-5000 is the flagship integrated amplifier from Accuphase. With a pre-amp section featuring Balanced AAVA volume control and Class AB power amplifier section, the E-5000 presents every piece of music in exquisite detail.
The E-5000 Integrated amplifier is available now.
Features include:
Balanced AAVA volume control
Conventional preamplifiers use variable resistors to adjust volume, which causes contacts to deteriorate and create grit as well as increase noise at normal volume levels. AAVA, however, produces multiple, widely varying signals from the input signal and controls volume by changing the combination of those signals. This achieves minimum noise at all volume levels without any grit. The E-5000 with its balanced AAVA circuits delivers exceptional noise suppression performance.
Formidable power amplification stage
The power amplification stage on both the left and right sides is equipped with a large heat sink and employs five-fold parallel push-pull power transistors driven in Class AB to provide rated, high-power output of 240 watts into 8 ohms and 320 watts into 4 ohms
High damping factor
The damping factor represents the amplifier's ability to drive the speakers. A damping factor of 1,000 (guaranteed) extracts the maximum potential from the loudspeakers.
Power supply designed for optimum stability
A strong power supply featuring a massive toroidal transformer and two high-voltage, large filtering capacitors (40,000 μF/100 V) offers a stable power supply at all times.